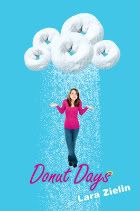 Donut Days

by Lara Zielin
Emma has a lot going on. Her best friend's not speaking to her, a boy she's known all her life is suddenly smokin' hot and in love with her, and oh yes, her evangelical minister parents may lose their church, especially if her mother keeps giving sermons saying Adam was a hermaphrodite.

But this weekend Emma's only focused on Crispy Dream, a hot new donut franchise opening in town, where Harley bikers and Frodo wannabes camp out waiting to be the first ones served. Writing the best feature story on the camp for the local paper might just win Emma a scholarship to attend a non- Christian college. But soon enough Emma finds the donut camp isn't quite the perfect escape from all her troubles at Living Word Redeemer.

In a fresh, funny voice, newcomer Lara Zielin offers up a mesmerizing, fast-paced narrative full of wit and insight.
First Sentence:
I'm no biblical scholar, but I'm pretty sure Adam - as in the guy who named all the animals in the Garden of Eden - wasn't a hermaphrodite.
I really enjoyed reading
Donut Days
, Lara's writing flowed easily and the characters were very life-like. Which is not an extremely easy thing to do when writing about such a touchy topic as religion, however Lara accomplished it with class because even though there were many corrupt things going on at the church it did not show religion in a bad light.
Donut Days
shows that being religious can mean many different things to different people, and however they chose to interpret religion is the right way because it is right for them.
I would have to say that my favorite character in
Donut Days
is Bear, the loveable biker with a gambling problem. I also loved the way that Lara displayed the relationship between Emma and her parents. Emma felt like her parents weren't letting her in the loop because she was too much of a child, when in reality they didn't want her to feel like they were weak and incapable of handling things. I believe that this is a common problem in realtionships especially between children and parents, and shows that communication is key.
I believe that this novel would be a perfect match for anyone who is, or ever has, questioned religion and the importance of belonging to a church. Or possibly anyone who has a soft spot for donuts. ;)
Favorite Quotes:
"Dad, I just - I'm not sure I want to go to a college that doesn't teach geology or evolution."
"But why not?" my dad asked.
"Because the faculty will think the earth is, like, five thousand years old," I said.

The conversation was like watching a turtle try to turn itself over after being flipped. I practically expected one of us to start flailing our limbs, that's how awful it was.

With me and Nat, the same thing happened - and now the decay was still working its way through our friendship like a cavity, and we could feel the ache of it even if we weren't brave enough to look at it.

Title: Donut Days
Hardcover: 256 pages
ISBN 10: 0399250662

ISBN 13: 978-0399250668
Buy It:
Amazon
,
Borders
,
Barnes & Noble
Review Number: 19
My Copy: ARC provided by Lara Zielin