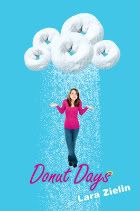 Donut Days
Lara Zielin
Emma has a lot going on. Her best friend's not speaking to her, a boy she's known all her life is suddenly smokin' hot and in love with her, and oh yes, her evangelical minister parents may lose their church, especially if her mother keeps giving sermons saying Adam was a hermaphrodite.

But this weekend Emma's only focused on Crispy Dream, a hot new donut franchise opening in town, where Harley bikers and Frodo wannabes camp out waiting to be the first ones served. Writing the best feature story on the camp for the local paper might just win Emma a scholarship to attend a non- Christian college. But soon enough Emma finds the donut camp isn't quite the perfect escape from all her troubles at Living Word Redeemer.

In a fresh, funny voice, newcomer Lara Zielin offers up a mesmerizing, fast-paced narrative full of wit and insight.


Lipstick Apology
Jennifer Jabaley
Sometimes a good-bye is just the beginning.

When Emily Carson's parents die in a plane crash, she's left with nothing but her mother's last words scrawled in lipstick on a tray table: 'Emily, please forgive me.'

Now it's fall and Emily moves to New York City - where she attracts the attention of two very different boys: the cute, popular Owen, and her quirky chemistry partner, Anthony. With the help of some surprising new friends, Emily must choose between the boy who helps her forget and the one who encourages her to remember, and ultimately heal.

Debut author Jennifer Jabaley has written a wonderful, feel-good romantic comedy with real emotional depth. Full of lovably wacky characters, Lipstick Apology is a heartwarming story about the true meaning of forgiveness.
Which title are you looking forward to reading?