So I was going to do a vlog, since I got so many amazing books this week and I still need to show off my new bookshelves... but then I didn't feel like taking a shower. So I promise to be clean to do a vlog for next week. ;)
Models don't Eat Chocolate Cookies

Erin Dionne
Thirteen-year-old Celeste Harris is no string bean, but comfy sweatpants and a daily chocolate cookie suit her just fine. Her under-the-radar lifestyle could have continued too, if her aunt hadn't entered her in the HuskyPeach Modeling Challenge. To get out of it, she's forced to launch Operation Skinny Celeste—because, after all, a thin girl can't be a fat model! What Celeste never imagined was that losing weight would help her gain a backbone . . . or that all she needed to shine was a spotlight.

A hilarious debut featuring friendship, family, mean girls and even celebrity crushes, Celeste's story is a delicious treat that doesn't add a pound.
Won from a giveaway at
Royal Reads
. I loooove the fact that she decides to get skinny so she DOESN'T have to model. ;)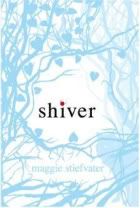 Shiver
Maggie Stiefvater

For years, Grace has watched the wolves in the woods behind her house. One yellow-eyed wolf--her wolf--is a chilling presence she can't seem to live without. Meanwhile, Sam has lived two lives: In winter, the frozen woods, the protection of the pack, and the silent company of a fearless girl. In summer, a few precious months of being human . . . until the cold makes him shift back again.

Now, Grace meets a yellow-eyed boy whose familiarity takes her breath away. It's her wolf. It has to be. But as winter nears, Sam must fight to stay human--or risk losing himself, and Grace, forever.
Requested from the publisher. I am oh so excited for this one after all the amazing reviews, and I feel werewolves need more love nowadays.


Marie Therese: Child of Terror
Susan Nagel
The first major biography of one of France's most mysterious women—Marie Antoinette's only child to survive the revolution.

Susan Nagel, author of the critically acclaimed biography Mistress of the Elgin Marbles, turns her attention to the life of a remarkable woman who both defined and shaped an era, the tumultuous last days of the crumbling ancien régime. Nagel brings the formidable Marie-Thérèse to life, along with the age of revolution and the waning days of the aristocracy, in a page-turning biography that will appeal to fans of Antonia Fraser's Marie Antoinette and Amanda Foreman's Georgiana: Duchess of Devonshire.

In December 1795, at midnight on her seventeenth birthday, Marie-Thérèse, the only surviving child of Marie Antoinette and Louis XVI, escaped from Paris's notorious Temple Prison. To this day many believe that the real Marie-Thérèse, traumatized following her family's brutal execution during the Reign of Terror, switched identities with an illegitimate half sister who was often mistaken for her twin. Was the real Marie-Thérèse spirited away to a remote castle to live her life as the woman called "the Dark Countess," while an imposter played her role on the political stage of Europe? Now, two hundred years later, using handwriting samples, DNA testing, and an undiscovered cache of Bourbon family letters, Nagel finally solves this mystery. She tells the remarkable story in full and draws a vivid portrait of an astonishing woman who both defined and shaped an era. Marie-Thérèse's deliberate choice of husbands determined the map of nineteenth-century Europe. Even Napoleon was in awe and called her "the only man in the family." Nagel's gripping narrative captures the events of her fascinating life from her very public birth in front of the rowdy crowds and her precocious childhood to her hideous time in prison and her later reincarnation in the public eye as a saint, and, above all, her fierce loyalty to France throughout.

Bought at Half Price Books. OH M GEE... I literally squealed when I saw this on the shelf, which got me some weird looks from other customers. ;) It will be hard to read my books for review with this one sitting on the shelf.

Madame de Pompadour: Mistress of France
Christine Pevitt Algrant

This biography of the legendary mistress of King Louis XV offers dramatic insight into the life of one of the most enchanting, powerful, and feared women to grace the world's stage. Groomed from an early age to assume the role of a rich man's mistress, Jeanne-Antoinette Poisson underwent several transformations before she caught the heart of the king himself. Although accustomed to the king's extramarital relationships, the court was shocked at the sudden ascension of the low-born Mademoiselle Poisson. The newcomer, however, wasted no time in establishing herself as the king's sole confidante and, ultimately, his indispensable partner in affairs of state. The critically acclaimed author of Philippe, Duc d'Orleans, Christine Pevitt Algrant traces Madame de Pompadour from her modest beginnings in early-eighteenth-century Paris to her reign as the undisputed mistress of Versailles. Filled with photographs, and evocative and insightful in its telling, Madame de Pompadour is a seductive portrait of one of the most fascinating and influential women of the age.

Bought at Half Price Books. Another amazing find that I am really excited to be able to read... hopefully sometime soon.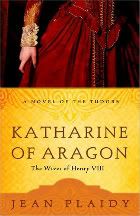 Catherine of Aragon
Jean Plaidy
For the first time in paperback—all three of Jean Plaidy's Katharine of Aragon novels in one volume.

Legendary historical novelist Jean Plaidy begins her tales of Henry VIII's queens with the story of his first wife, the Spanish princess Katharine of Aragon.

As a teenager, Katharine leaves her beloved Spain, land of olive groves and soaring cathedrals, for the drab, rainy island of England. There she is married to the king's eldest son, Arthur, a sickly boy who dies six months after the wedding. Katharine is left a widow who was never truly a wife, lonely in a strange land, with a very bleak future. Her only hope of escape is to marry the king's second son, Prince Henry, now heir to the throne. Tall, athletic, handsome, a lover of poetry and music, Henry is all that Katharine could want in a husband. But their first son dies and, after many more pregnancies, only one child survives, a daughter. Disappointed by his lack of an heir, Henry's eye wanders, and he becomes enamored of another woman—a country nobleman's daughter named Anne Boleyn. When Henry begins searching for ways to put aside his loyal first wife, Katharine must fight to remain Queen of England and to keep the husband she once loved so dearly.

Bought at Borders. I was soooo excited when I bought this one, since it is my first Plaidy novel... but then I got home and found out it isn't the first one in the Tudor series. Grrrrrrrr.

What did you receive in the mail this week?