Dancing with Anna

Nicole Barker
Beth is a lucky girl…

She comes from a loving family. She has three best friends. She loves to surf and lives five minutes from the beach. She also recently discovered that the boy she's grown up with has the most amazing green eyes…
Beth has every reason to smile. Every reason to be happy. Every reason to feel blessed.

Then why is she sticking her fingers down her throat?

Sixteen year old Beth Baxter's life merely resembles the one she's always known. Her father has left. She is falling for Jeremy Duscana and the diet she started has somehow turned into an obsession. Yet her three best friends remain the same, always there for her.

But even their love can't save her from herself.

Dancing With Ana. A story about the journey to acceptance of one's own reality, the incredible bond that exists between friends and a love that truly endures all things.
Sent from the author for review. Sounds like it will be pretty good, for some reason I really like reading about eating disorders. ;)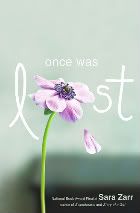 Once was Lost
Sara Zarr

Samara Taylor used to believe in miracles. She used to believe in a lot of things. As a pastor's kid, it's hard not to buy in to the idea of the perfect family, a loving God, and amazing grace. But lately, Sam has a lot of reason to doubt. Her mother lands in rehab after a DUI and her father seems more interested in his congregation than his family. When a young girl in her small town is kidnapped, the local tragedy overlaps with Sam's personal one, and the already-worn thread of faith holding her together begins to unravel.

In her third novel, acclaimed author Sara Zarr examines the coexistence of affliction and hope, and what happens when everything you thought you believed---about God, about your family, about yourself---is transformed.
Requested via Facebook. I love the simplicity of this cover and I have been wanting to read one of her books for a while now, so yay! :)


The Day the Falls Stood Still
Cathy Marie Buchanan
Steeped in the intriguing history of Niagara Falls, this is an epic love story as rich, spellbinding and majestic as the falls themselves.

1915. The dawn of the hydroelectric power era in Niagara Falls. Seventeen-year-old Bess Heath has led a sheltered existence as the youngest daughter of the director of the Niagara Power Company. After graduation day at her boarding school, she is impatient to return to her picturesque family home near the falls. But when she arrives, nothing is as she left it. Her father has lost his job at the power company, her mother is reduced to taking in sewing from the society ladies she once entertained, and Isabel, Bess's vivacious older sister, is a shadow of her former self. She has shut herself in her bedroom, barely eating and harboring a secret.

The night of her return, Bess meets Tom Cole by chance on a trolley platform, she finds herself inexplicably drawn to him against her family's strong objections. He is not from their world. Rough-hewn and fearless, he lives off what the river provides and has an uncanny ability to predict the whims of the falls. His daring river rescues render him a local hero and cast him as a threat to the power companies that seek to harness the falls for themselves. As the couple's lives become more fully entwined, Bess is forced to make a painful choice between what she wants and what is best for her family and her future.

Set against the tumultuous backdrop of Niagara Falls, at a time when daredevils shot the river rapids in barrels and great industrial fortunes were made and lost as quickly as lives disappeared, The Day the Falls Stood Still is an intoxicating debut novel.

Sent for a book tour. I love this cover, definitely one you have to see in person. Check back September 3rd for my review. ;)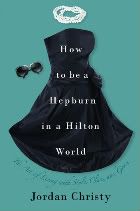 How to be a Hepburn in a Hilton World
Jordan Christy

In a society driven by celebutante news and myspace.com profiles, women of class, style, and charm are hard to come by. But as thongs, rehab, and outrageous behavior burn up the daily headlines, employers still like to see a tailored suit, men still want women they can take home to their moms, and peers still respect professional conduct. Christy helps women channel their inner Kate or Audrey, dusting off old-fashioned virtues and giving them a whole new spin in today's sexed-up culture. She shows how modern women can be beautiful, intelligent, and have it all — glamorous style, professional success, and true love and keep their values and morals intact along the way.
Requested from the publisher. Oh m gee this cover is soooo much prettier in person, its the most amazing metallic blue. :D


What did you receive in the mail this week?