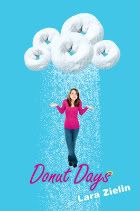 Donut Days

Lara Zielin
Emma has a lot going on. Her best friend's not speaking to her, a boy she's known all her life is suddenly smokin' hot and in love with her, and oh yes, her evangelical minister parents may lose their church, especially if her mother keeps giving sermons saying Adam was a hermaphrodite.

But this weekend Emma's only focused on Crispy Dream, a hot new donut franchise opening in town, where Harley bikers and Frodo wannabes camp out waiting to be the first ones served. Writing the best feature story on the camp for the local paper might just win Emma a scholarship to attend a non- Christian college. But soon enough Emma finds the donut camp isn't quite the perfect escape from all her troubles at Living Word Redeemer.
Sent to me for review by the lovely Lara Zielin herself, who is such a sweetie! :)
Actually I have had this book for a couple of weeks, but as I was checking posts I figured out that I forgot to mention it lol.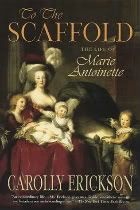 To the Scaffold: The Life of Marie Antoinette
Carolly Erickson

One of history's most misunderstood figures, Marie Antoinette represents the extravagance and the decadence of pre-Revolu-tion-ary France. Yet there was an innocence about Antoinette, who was thrust as a child into the chillingly formal French court. Married to the maladroit, ill-mannered Dauphin, Antoinette found pleasure in costly entertainments and garments. She spent lavishly while her overtaxed and increasingly hostile subjects blamed her for France's plight. In time Antoinette matured into a courageous Queen, who followed her inept husband to the guillo-tine in one last act of bravery. In To the Scaffold, Carolly Erickson provides an estimation of a lost Queen that is psychologically astute, richly detailed, and deeply moving.
Sent to me from Bookmooch. :) I just loooove Marie Antoinette.

What did you receive in the mail this week?