Fairy Tale
Cyn Balog
Morgan Sparks and Cam Browne are a match made in heaven. They've been best friends since birth, they tell each other everything, and oh yeah- they're totally hot for each other.

But a week before their joint Sweet Sixteen bash, everything changes. Cam's awkward cousin Pip comes to stay, and Morgan is stunned when her formerly perfect boyfriend seems to be drifting away.

When Morgan demands answers, she's shocked to discover the source of Cam's distance isn't another girl- it's another world. Pip claims that Cam is a fairy. No, seriously. A fairy. And now his people want Cam to return to their world and take his rightful place as Fairy King.

Determined to keep Cam with her, Morgan plots to fool the fairies. But as Cam continues to change, she has to decide once and for all if he really is her destiny, and if their "perfect" love can weather an uncertain future.

Witty, original and unexpectedly touching, FAIRY LUST will captivate fans of TWILIGHT and WICKED LOVELY.
Nothing but Ghosts
Beth Kephart

Ever since her mother passed away, Katie's been alone in her too-big house with her genius dad, who restores old paintings for a living. Katie takes a summer job at a garden estate where, with the help of two brothers and a glamorous librarian, she soon becomes embroiled in decoding a mystery. There are secrets and shadows at the heart of Nothing But Ghosts, symbols hidden in a time-darkened painting, and surprises behind a locked bedroom door. But most of all, this is a love story-- the story of a girl who learns about love while also learning to live with her own ghosts.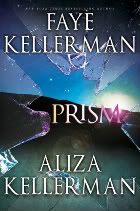 Prism
Faye and Aliza Kellerman
Prism takes us to a slightly alternate universe in which medicine and health care do not exist, and in which sick people are allowed to die without any care. Set in New Mexico and California, the novel features three teens who fall through a cave at Carlsbad Caverns in New Mexico while on a field trip. They are plunged into a frightening parallel universe—seven weeks in the past, in which their "normal" worlds of family and high school remain the same…except for the fact that no medicine exists and when people die in the street they are picked up and disposed of.
Which title are you looking forward to reading?