So I have decided to add the synopsis of the books that I have received throughout the week, that way in case anyone is intrigued by the cover they wont have to search to find out what the book is about ;)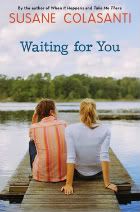 Waiting for You

Susane Colasanti
At the beginning of her sophomore year, Marisa is ready for a fresh start and, more importantly, a boyfriend. So when the handsome and popular Derek asks her out, Marisa thinks her long wait for happiness is over. But several bumps in the road—including her parents' unexpected separation, a fight with her best friend, and a shocking disappointment in her relationship with Derek—test Marisa's ability to maintain her new outlook. Only the anonymous DJ, whose underground podcasts have the school's ear, seems to understand what Marisa is going through. But she has no idea who he is—or does she?

In this third romantic novel from Susane Colasanti, Marisa learns how to "be in the Now" and realizes that the love she's been waiting for has been right in front of her all along.
Won from a giveaway hosted by Amanda at
A Patchwork of Books
: I am pretty excited about this one, especially since it is my second signed copy of a novel! :)
Take Me There
Susane Colasanti

In one short week . . . three lives change.

Rhiannon is devastated after the breakup with her boyfriend and wants him back. Nicoles ex is still in the picture, but she can't help having a new crush. James and Rhiannon are just friends, though he may try to take it to the next level. Will their desire to take a mean girl down a notch bring these three friends what they want . . . and more?
What did you receive in the mail this week?