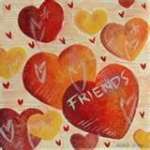 The Lets Be Friends Award
Yay! I am sooooooooo excited I got my first award today from the lovely Avisann!
Thank you!
Award Description:
Blogs that received the Let's Be Friends Award are exceedingly charming. These kind bloggers aim to find and be friends. They are not interested in self-aggrandizement. Our hope is that when the ribbons of these prizes are cut, even more friendships are propagated. Please give more attention to these writers. Deliver this award to eight bloggers.
So the people I choose are.....
I choose all of these amazing blogs because they have been really sweet, or I just really like their blog, and would like to get to know them better over time!