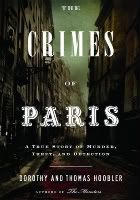 The Crimes of Paris
by Dorothy and Thomas Hoobler

Turn-of-the-century Paris was the beating heart of a rapidly changing world. Painters, scientists, revolutionaries, poets--all were there. But so, too, were the shadows: Paris was a violent, criminal place, its sinister alleyways the haunts of Apache gangsters and its cafes the gathering places of murderous anarchists. In 1911, it fell victim to perhaps the greatest theft of all time--the taking of the Mona Lisa from the Louvre.

Immediately, Alphonse Bertillon, a detective world-renowned for pioneering crime-scene investigation techniques, was called upon to solve the crime. And quickly the Paris police had a suspect: a young Spanish artist named Pablo Picasso....


First Sentence:
It was a Monday and the Louvre was closed.
The Crimes of Paris is a non-fiction book, but you would not know it from reading it. The book is full of stories about the many different crimes that happened in Paris, not just the theft of the
Mona Lisa
. This allows the reader a look into the lives of the people within Paris. It shows how the citizens of Paris were fascinated with crime and longed for a sense of fear, Paris definitely did not disappoint. The criminals of Paris were aided in their delinquent behavior by the technological advancements of the time, such as the first implementation of the get-a-way car.
As a history major I am assigned many non-fiction source books and I can say without a doubt none of them has held my attention in such a way as
The Crimes of Paris
. Dorothy and Thomas Hoobler do an amazing job turning the history of Paris' criminal past into an entertaining story. The story envelopes you in such a way that the book is hard to put down since you are transported to turn of the century Paris and fail to remember that you are even reading.
I was first drawn to this book due to the cover and would certainly recommend anyone who picks it up at a bookstore to buy it. I was lucky enough to have been able to visit the Louvre last year and did not take the time to see the
Mona Lisa
, I will not make that mistake again after reading
The Crimes of Paris
. Anyone who has a love for Paris, art, or of history in general would benefit from reading this book.
An interesting quote from The Crimes of Paris for book lovers:
"I have a letter here," Drioux continued, apparently falling into the spirit of Apollinaire's testimony, "From someone who says you borrowed two books from him, and that one of them ... you never returned."




"I imagine his reason for lending them to me was that I might read them," said Apollinaire. "I haven't read them yet. I will return them to him as soon as I can."



Title: The Crimes of Paris
Author:
Dorothy and Thomas Hoobler
Hardcover: 384 pages
ISBN 10: 0316017906
ISBN 13: 978-0316017909
Buy It:
Amazon
,
Borders
,
Barnes & Noble
Review Number: 6
I am so excited this is my first ever giveaway of my first ever ARC!!!
Courtesy of Valerie M. Russo of Hatchette Book Group I am offering
Five (5)
copies of
The Crimes of Paris
by Dorothy and Thomas Hoobler
. The winner must be at least 18 years of age and have a U.S. or Canada mailing address, no PO Boxes. The contest will run from
April 13th to April 20th 12:00pm ET,
when I will announce the winners on my blog.
-For one (1) entry leave a comment with a valid email address, saying your favorite time period to read about.
-For another entry (+1) become a follower, subscribe to my RSS, follow me on twitter, or do all three for an extra three entries (+3).
Good Luck and do not forget to come back on April 20th to see if you have won!