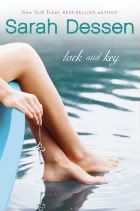 Lock and Key
by Sarah Dessen
"Ruby, where is your mother?"

Ruby knows that the game is up. For the past few months, she's been on her own in the yellow house, managing somehow, knowing that her mother will probably never return.

That's how she comes to live with Cora, the sister she hasn't seen in ten years, and Cora's husband Jamie, whose down-to-earth demeanor makes it hard for Ruby to believe he founded the most popular networking Web site around. A luxurious house, fancy private school, a new wardrobe, the promise of college and a future - it's a dream come true. So why is Ruby such a reluctant Cinderella, wary and defensive? And why is Nate, the genial boy next door with some secrets of his own, unable to accept the help that Ruby is just learning to give?

Best-selling author Sarah Dessen explores the heart of a gutsy, complex girl dealing with unforeseen circumstances and learning to trust again.
First Sentence:
"And finally," Jamie said as he pushed the door open, "we come to the main event. Your room."
Okay so I may be a little bias when it comes to Sarah Dessen's novels because she is one of my favorite young adult authors. This book definitely did not disappoint me, even with the high standards that I place Sarah under.
Ruby takes a while to become an enduring character, but that is mainly due to the fact that as a person she is so guarded. I really enjoyed the relationship between Ruby and her sister Cora because miss communication can be such a big cause of damaged relationships in broken homes. Sarah also has an amazing knack for making you remember and sometimes even love the supporting characters, even the ones that don't play a major part in the novel. Lock and Key was full of such minor characters including Harriet the coffee lover and Olivia the undeclared best friend. The only character I was dissapointed in was Nate. One of the main reasons I love Sarah's novels as much as I do is the fact that there is always a male heartthrob that I fall in love with and I just didn't get this feeling with Nate.
I would recommend this book to anyone who enjoys young adult fiction, because it deals with a variety of life experiences that many teens go through. Some of these experiences include drugs, alcohol, divorce, abuse, and sex. However there are some postive life experiences covered as well including first love, applying for college, making new friends, and discovering who you are. Just a warning though, you will want a key necklace of your own. ;)
Favorite Quotes:
I looked at the sweatshirt again. "You swim' is a philosophy?"
He shrugged. "Better than 'you sink,' right?"

"I want you to give her a possibility," she told him, looking at my necklace again. "And that's what a key represents. An open door, a chance. You know?"

There is something striking about a single key. It was like a question waiting to be answered, a whole missing a half. Useless on its own, needing something else to be truly defined.

Title: Lock and Key
Paperback: 432 pages
ISBN 10: 0142414727

ISBN 13: 978-0142414729
Buy It:
Amazon
,
Borders
,
Barnes & Noble
Review Number: 17
My Copy: Bought