The author of the month is ...
Amber Benson
Amber Benson has been one of my all time favorite people since she first appeared on my television as Tara Maclay, Willow's girlfriend on Buffy the Vampire Slayer. And then I found out that she could write and I fell in love. So I figured that it would only be fitting that Amber be my first author of the month. I highly encourage you to pick up one of her books! :)
All of the amazing things that Amber is able to do include:
-acting
-singing
-writing (screenplays, novels, and comic books)
-producing
Soooo basically she is just full of awsomeness ;)
As of right now there is not a site maintained by Amber herself but she does have a blog and there are a couple of nicely done fan sites:
-
Amber Benson's official blog
-
The essence of Amber
-
Amber Benson online
Oh and here is a link to the most amazing video ever (and showing just how amazing Amber can really be) ...
Amber Benson singing "Creature of the Night"
from the Rocky Horror Picture Show :)
Ghosts of Albion: Accursed
Amber Benson & Christopher Golden

Even death could not stop Britain's greatest defenders.

In 1838, William and Tamara Swift inherit a startling legacy from their dying grandfather, transforming them into the Protectors of Albion, mystical defenders of the soul of England. But the shocked, neophyte sorcerers also inherit unique allies in their battle against the dark forces. Fighting alongside them are the famous–even infamous–Ghosts of Albion: Lord Byron, Queen Bodicea, and Lord Admiral Nelson.

When strange and hideous creatures appear in the slums of London, an unholy plague threatens to launch an epic battle that may rage all the way to Buckingham Palace . . . and beyond. Time is running out as William and Tamara must learn whether their friends will stand beside them, or seduce and betray them.

From Amber Benson, known for her dramatic portrayal of Tara in Buffy the Vampire Slayer, and Christopher Golden, Bram Stoker Award—winning author of The Shadow Saga and Wildwood Road, comes a vengeful tale of demons, vampires, and ghosts set in nineteenth-century London. Based on the smash BBC Web series that took England by storm, Ghosts of Albion is a horror adventure laced with dark humor and darker lusts.

Ghosts of Albion: Witchery
Amber Benson & Christopher Golden
Before you can save Albion, you must destroy the poison in its black heart.

William and Tamara Swift's newfound sorcerous powers as Protectors of Albion pale before the demonic forces threatening Britannia. But William and Tamara have formidable allies in Lord Byron, Queen Bodicea, and Lord Admiral Nelson–England's noble, notorious Ghosts of Albion.

Responding to a plea from Cornwall, Tamara discovers that the rumors of young women, both human and fairy, vanishing without a trace are horribly true. Instead of hard clues, she uncovers only whispers of witches, infernal abductions, and a pyre of innocents planned for the solstice. Indeed, Tamara has never faced a more dangerous task–for the legendary land of King Arthur's Camelot also harbors dark, bloody deeds and a waking evil. Soon nothing, not even mighty Albion, will be safe from the deadly peril.

Amber Benson, who immortalized Tara in Buffy the Vampire Slayer, and Christopher Golden, Bram Stoker Award—winning author of the Shadow Saga, have created a voluptuous, twisted thriller. Based on the BBC Web series that became a smash hit in England, Ghosts of Albion: Witchery brings to life a sizzling, ninteenth century world of fiends, phantoms, and spine-tingling terror.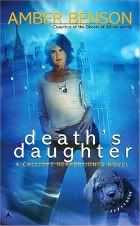 Death's Daughter
Amber Benson

Buffy fans will go wild!

SHE WAS TARA ON BUFFY THE VAMPIRE SLAYER.

Now she's the author of Ace's hottest new series— killer novels featuring Calliope Reaper-Jones, who doesn't want to be daddy's little girl anymore...

Calliope Reaper-Jones so just wanted a normal life: buying designer shoes on sale, dating guys from Craig's List, web-surfing for organic dim-sum for her boss...

But when her father—who happens to be Death himself—is kidnapped, and the Devil's Protege embarks on a hostile takeover of the family business, Death, Inc., Callie returns home to assume the CEO mantle— only to discover she must complete three nearly impossible tasks in the realm of the afterlife first.

Buy It:
Amazon
,
Borders
,
Barnes & Noble
Oh and don't forget to look for my reviews of the Ghosts of Albion books sometime this month. I may be able to also review Death's Daughter, but as of right now I do not posses a copy ... but my birthday is at the end of the month so we'll see ;)