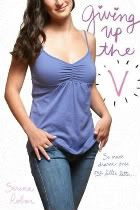 Giving It Away For Free
(the only time Momma would approve)
Serena Robar is giving it away for free the entire month of June. That's right. A book a day, every day in honor of her latest book release Giving Up the V. All you have to do to is sign up for her newsletter and you are entered to win. Enter once and you are in the running to win a book every day the entire month of June.