This is a new feature at Books Love Jessica Marie.
I shall be posting the cover and synopsis of books on the day that they are released. ;)

Don't Judge a Girl by Her Cover
(Gallagher Girl Series)
Ally Carter
When Cammie Morgan arrives at her friend Macey's five star hotel for the Democratic National Convention-where Macey's father is about to receive the vice presidential nomination-she thinks she's in for an exciting end to her summer break. But if you're a Gallagher Girl, "exciting" and "deadly" are never far apart.

Things quickly go south when Macey is summoned to the hotel roof to shoot a PR piece with the presidential candidate's son. But instead of cameras, attackers descend from a helicopter and swarm the girls, commanding, "Grab her." After a narrow escape, Cammie and Macey find themselves at a top secret hideout owned by the Gallagher Academy. and thus begins Cammie's junior year at spy school.

Cammie doesn't need her genius IQ to see that the kidnapping attempt has changed everything, especially now that Macey is a major celebrity, and the school has been besieged by news crews. More disturbing, Cammie can't shake the suspicion that her mom and Mr. Solomon know more about the attack than they're letting on. After all, why weren't the attackers surprised to find themselves in combat with two teenage girls who handled themselves like seasoned pros?

But these suspicions won't stop Cammie from jumping at the chance to join Bex and Liz as Macey's private security team on the campaign trail. Before long, the girls are using their espionage skills at every turn, as Cammie gets closer and closer to the shocking truth...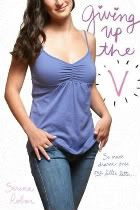 Giving Up the V
Serena Robar
Spencer Davis just turned sixteen. But unlike most hormonal teenagers who seem obsessed with sex -- like her entire crew of friends -- Spencer just doesn't get it. She'd rather wait for the right guy and the right moment. But that moment may be arriving sooner than she'd thought.



Enter Benjamin Hopkins, a new transfer student who seems to have his eyes on our V-card-carrying heroine. He's gorgeous, funny, suave, athletic, and capable of making Spencer's knees wobble with a single glance. Spencer has never felt this way about anyone before, but is Ben truly V-worthy?
Tempo Change
Barbara Hall
It's tough enough defining your identity—imagine if your father was a rock legend.

Blanche Kelly's dad is a famous indie rock icon, but not many people at the private school she attends on scholarship know this. Her father left when she was in the first grade, and she can't quite forgive her mom for not understanding that an artist like her dad needs the time and space to connect to his muse.

When Blanche creates an all-girl rock band, their sound captures a wide audience and the band is invited to compete at the Coachella Music Festival. Blanche feels this could be the perfect time for a reunion with her father. Won't he be proud to hear her band? Won't he be happy to get to know his only daughter?

Author Barbara Hall sensitively explores the expectations between parents and teens, as well as the value of learning about your past to make your own future.
Which title are you looking forward to reading?