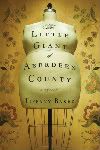 The Little Giant of Aberdeen County
by: Tiffany Baker
Talk about cover attraction.... I love this cover, it's just so adorable! I actually got to see this one in a bookstore, and it was still cute in person ;) Also I have heard many great things about the book from people who also liked the cover, such as the review from
A Bookworm's World
.
Lost it
by: Kristen Tracy
This is another nice cover, I really like the vibrant colors of it and the fact that they don't show the people's faces. The synopsis doesn't offer too much information except for all the bizarre things that happen to the heroine. The question is: does the title implying that she lost her mind or something else..... ;)
You Had Me at Halo
by: Amanda Ashby
This book caught my eye because the cover is very original for a book about returning from the dead. The storyline seemed a little over done, someone returns to earth because they had something to finish, but after reading the synopsis it turns out that Amanda Ashby has managed to add a couple significant twists into her story.
Did you find anything interesting this week?