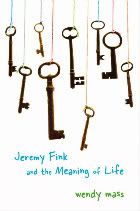 Jeremy Fink and the Meaning of Life
by Wendy Mass

In one month Jeremy Fink will turn thirteen. But does he have what it takes to be a teenager? He collects mutant candy, he won't go more than four blocks from home if possible, and he definitely doesn't like surprises. On the other hand, his best friend, Lizzy, isn't afraid of anything, even if that means trouble now and then.
Jeremy's summer takes an unexpected turn when a mysterious box arrives. According to the writing on the box, it holds the meaning of life! Jeremy is supposed to open it on his birthday, but the keys are missing, and only the keys can open the box without destroying what's inside.
Jeremy and Lizzy set off to find the keys, but when one of their efforts goes very wrong, Jeremy starts to think he'll never be able to open the box. But what he doesn't know is that there might be other ways to find out the meaning of life.
First Sentence:
My sweat smells like peanut butter.
How can anyone not be immediately drawn to a book with an opening sentence like that?
Jeremy Fink and the Meaning of Life
documents the life Jeremy Fink and his best friend, Lizzy, as they attempt to find the keys to a box that contains the meaning of life. Along the way they discover important things about themselves, their friendship, and of course life. They also encounter many unique characters that will aid them on their search and leave a lasting impression on their lives.
I really enjoyed this book, as I was instantly intrigued with the lives of Jeremy and Lizzy. Wendy Mass does a wonderful job describing the characters of her novels to the point that you feel that you know them in real life. Besides the obvious fact that I am a female, I felt that their friendship was very close to the friendships that I had when I was 13. I can also relate to Jeremy when he thinks about the universe and his place within it, because every now and then I still feel a little lost.
I would recommend
Jeremy Fink and the Meaning of Life
to anyone who enjoys reading young adult literature. It is a light and comforting read, but still posses some surprising twists and the obvious mystery of the meaning of life.
Favorite Quotes:
"But if we get kidnapped into some cult, my father will be

very

angry with you."
"It means if you piss me off, and we don't stay friends, that sixty years from now you'll regret pissing me off."
"Do you ever worry if people heard our conversations they would lock us up?"
"All the time," she says[.]
Title: Jeremy Fink and the Meaning of Life
Paperback: 304 pages
ISBN 10: 0316058491

ISBN 13: 978-0316058491
Buy It:
Amazon
,
Borders
,
Barnes & Noble
Review Number: 11