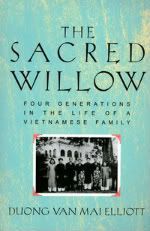 The Sacred Willow
by Duong Van Mai Elliot

Duong Van Mai Elliot's

The Sacred Willow

, an extraordinary narrative woven from the lives of four generations of her own family, illuminates fascinating - and until now unexplored - strands of Vietnamese history. Beginning with her great-grandfather and continuing to the present, Elliot traces her family's journey through a long era of tumultuous change. She tells of childhood hours in her grandmother's silk shop, and of hiding while the French troops torched her village. She reveals the agonizing choices that split Vietnamese families: her eldest sister left their staunchly anti-communist home to join the Viet Minh and then spent months sleeping with her infant son in jungle camps, fearing air raids by day and tigers by night. And she follows several family members through the last, desperate hours of the fall of Saigon - including one nephew who tried to escape by grabbing the skid of a departing American helicopter. This often haunting, often heartbreaking, and always mesmerizing story of how the Vietnamese have experienced their times will forever change our perception of the modern history of Vietnam.
First Sentence:
My family owes its good fortune to a mysterious man.

The Sacred Willow
is a book about Vietnam and it's history portrayed by the life of one Vietnamese family. Unlike most books about the war in Vietnam, this book offers the views of the Vietnamese themselves instead of the views of foreigners. Another important aspect is the fact that Elliot shows the opinons and values of both the people who support and are against the Viet Minh. This is done by the views of her family and the views of her sister Thang, who leaves to fight for the Viet Minh. While studying abroad Elliot is able to get an outside perspective and begins to feel a connection to the Viet Minh, at least to the point that she understands why they are willing to fight.
I did enjoy this book becuase it directly tied into my history class, but if it was not for that I do not know if I would of truely enjoyed it. The book is fascinating, since it gives American readers the views of the Vietnamese that we were fighting for in the Vietnam War. Another plus, is the reader does not have to be familiar with Vietnamese history beacuse Elliot does an excellent job describing the historical events. However, the book is a little dry, a very long read, and a little bias toward the Viet Minh (Elliot did grow up in a family that strongly despised the communists). I would probably only recomened it for modern history lovers, those who have an appreciation for Vietnam or the Vietnamese War. The book is definitely not for leisure readers.
Title: The Sacred Willow
Author: Duong Van Mai Elliot
Paperback: 544 pages
ISBN 10: 0195137876
ISBN 13: 978-0195137873
Buy It:
Amazon
,
Borders
,
Barnes & Noble
Review Number: 3